Optec Home > Astronomy > Downloads > Optec ASCOM Server
Optec ASCOM Server
Multiple ASCOM Client Access for any ASCOM driver
What is a Local Server and Why is it Needed?
ASCOM Local Servers, more commonly known as "hubs", allow multiple ASCOM clients access to a shared device or resource, regardless of the device connection protocol. As long as the device has a working ASCOM compliant driver, the Optec ASCOM Server will act as a shim allowing multiple clients access to the driver and device.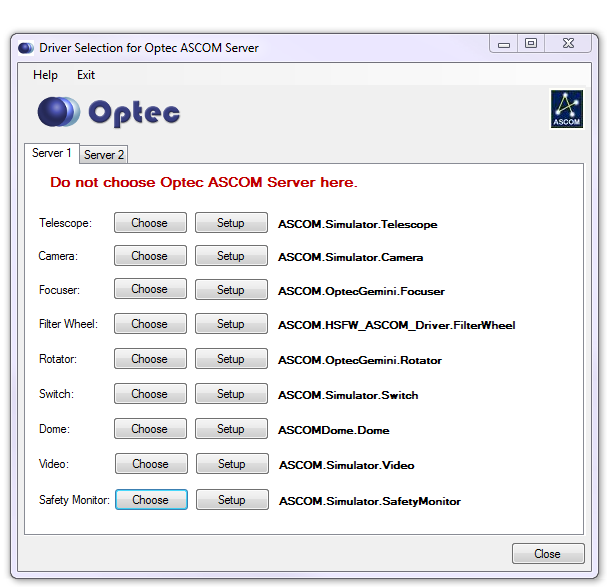 So if you're using a serial rotator, for example, with a valid ASCOM driver and wish to have simultaneous access to the rotator through Maxim D/L and CCD AutoPilot, the Optec ASCOM Server will create and maintain the multiple connections seamlessly and easily.
Like the Optec Alt-Az De-Rotation Server, the Optec ASCOM Server creates a Local Server object that can connect to multiple ASCOM device types (i.e. mounts, cameras, focusers, etc.) and exists while any single device is connected. For multiple devices of the same type, the Optec ASCOM Server features a second server tab to connect your second telescope and devices for tandem setups. The Optec implementation is clean, easy to understand, and provides a level of trace logging through the Windows Event Viewer.
Free 60-day Trial License:
Download the Optec ASCOM Server using the Download button at right below. A Trial Key license is included allowing you to test the software in your observatory environment.
If, after 60-days, you find it is a valuable tool for your observing routine you can purchase a full license below. Your license key purchase includes 1-year of software maintenance and updates.
Optec ASCOM Server Software Installer:
OptecASCOMServer(1.0.4).zip
Windows 7 and above. (release date: 2018/08/27)


Any CPU Installer program for Optec ASCOM Server application. General purpose ASCOM local server application for use with all ASCOM device types. This software allows multiple client access for any ASCOM compliant device.

Optec ASCOM Server requires ASCOM Platform 6.3,
Microsoft .NET Framework 4 or above,
ASCOM 32-bit or 64-bit device drivers,
Windows 7 or newer operating system,
At least 20 MB of hard disk space.

Software copyright 2018 - Optec, Inc.
How to Order:
Click the Buy Now button below to order the Optec ASCOM Server through PayPal or with any credit card. (PayPal accounts are not required). You will be directed to our license server for an authentication key which will also be emailed to you.
Purchase Optec ASCOM Server license key:
| | |
| --- | --- |
| The ASCOM Server is licensed software developed by Optec, Inc. A software key is required for permanent use. | |
| ASCOM Server License with 1-year Maintenance: $25 | |
Contact Optec Sales (sales@optecinc.com) or call Toll-Free 1-888-488-0381 with any questions or concerns.
Optec ASCOM Server

Help File:
License Agreement:
| | |
| --- | --- |
| Read the Optec ASCOM Server License Agreement. | |