---
Section 1.4.4 - How To Configure A Web-Based Ethernet Connection
BEFORE YOU BEGIN: Please complete the steps described on the Quick-Start Guide you received with your FocusLynx focuser hub through Configuring Focuser Type. These steps are also listed in the Quick Start portion of this manual. Failure to perform the focuser type configuration procedure may result in severe, permanent damage to your focusers!
As an alternative to the FocusLynx Commander control software, the FocusLynx focuser hub can be controlled via a webpage. This webpage can be accessed and configured through either an ethernet connection or via Wi-Fi. To access and configure the webpage, follow these simple steps:
Power Up And Connect The FocusLynx

- Ensure that the 12VDC power adapter is plugged into both the FocusLynx and a power outlet, then flip the switch on the side of the focuser hub to turn it on. A red LED should turn on to confirm that the focuser hub is now running. Ensure that there is a valid ethernet connection between the computer and the focuser hub.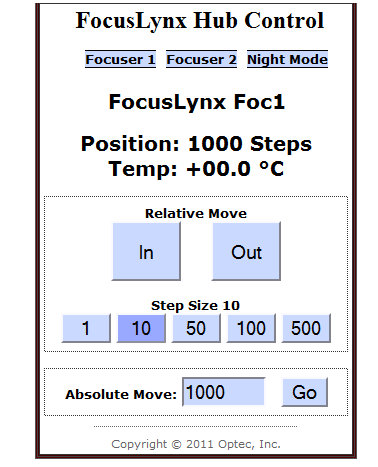 Non-Windows

- First, find the

IP address

of your FocusLynx by opening FocusLynx Commander, opening the

Setup

window, and selecting the Ethernet connection option. Now, access the control website with any supported browsers by going to

[IP Address Here]/focuser1.htm

.
Congratulations! You are now ready to use the control website to control your focusers with the FocusLynx focuser hub.