---
Section 1.3.4 - Configuring Temperature Coefficients
Note: If the focuser you are currently configuring does not have temperature compensating capabilities, you may skip this portion of the quick start guide.
While it is possible to manually calculate and configure the temperature coefficients for your temperature compensating focuser, there is also a handy setup wizard available in the FocusLynx Commander control program that will assist you in setting up your temperature coefficients.
Connect To Your Hub

- Connect to the focuser hub in FocusLynx Commander via the method described in the

Connecting To Your FocusLynx

portion of this Quick-Start Guide.
Plug In Your Focuser And Temperature Probe

- Ensure that both the focuser and its temperature probe are properly connected. In the

Focuser Hub Setup

dialog box you may click the

Configure Temperature Compensation

button to make changes. Accept the default temperature coefficients or change the

Description

and

Coefficient

if you already know your system's unique temperature coefficient, then

Apply Changes.
Select the active

Mode

to be used when turning ON temperature compensation in the FocusLynx Commander main window or when using other ASCOM applications.





Alternatively, you may choose to run the

Temperature Compensation Wizard

to determine your optical system's unique temperature coefficient.
Open The Temperature Compensation Wizard

- Open FocusLynx Commander and go to the

File

menu and select either

Focuser 1

or

Focuser 2

from the

Temp. Comp. Wizard

option, depending on which focuser you would like to set coefficients for.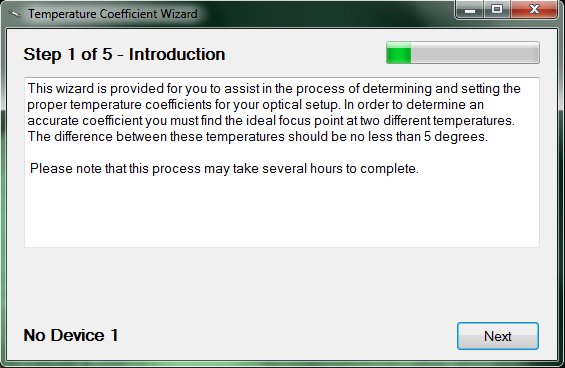 Complete The Temperature Compensation Wizard

- Follow the directions provided by the wizard to calculate and save a temperature compensation coefficient as the compensation mode of your choice.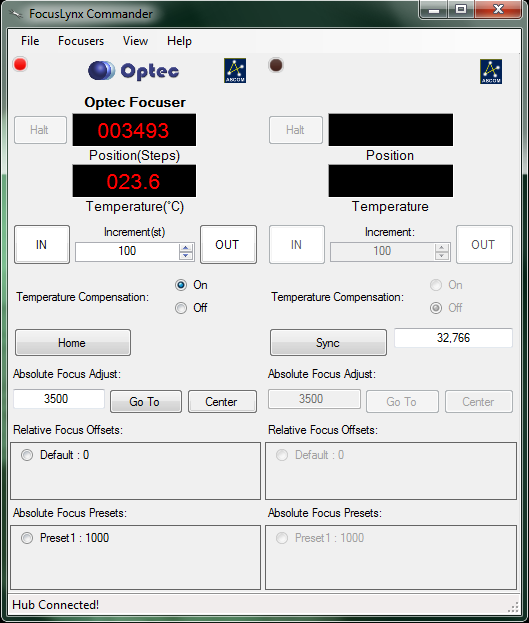 Enable Temperature Compensation

- When you return to the main Commander window, make sure to enable temperature compensation by selecting

On

in the

Temperature Compensation

section of the main window.