---
Section 1.3.2 - Connecting To Your FocusLynx
WARNING: Do not plug any focuser into your focuser hub until you have completed the Set Focuser Type step described later in this guide.
Once you have installed your FocusLynx Commander software, the next step is to connect your hub to your computer. These instructions will help you connect over an RS-232 Serial connection using the Serial-USB cable included with the FocusLynx controller hub. For instructions on connecting and configuring over other types of connections, please consult the Configuring Software section of the FocusLynx manual.
To establish a serial connection using FocusLynx Commander:
Plug In Your FocusLynx Hub

- Plug the universal 12VDC power supply included with the FocusLynx controler hub into a wall outlet or power source. Insert the 2.5mm x 5.5mm plug into the 12VDC power port on the FocusLynx control hub and move the slide switch up to turn on the FocusLynx hub. The LED power indicator will light after a few seconds to indicate the boot sequence was successful.
Connect the Serial-USB Cable

- For serial communication, connect the RJ12 plug into the FocusLynx socket labled "Serial" and connect the USB-A plug into an open USB port on the PC computer.
Go To The Setup Screen

- Open FocusLynx Commander and go to the

Focusers

menu. Choose the

Setup

option under either

Focuser 1

or

Focuser 2.

The setup screen will open. The Setup Screen will appear in the upper left screen - If not initially visible, check the taskbar for the second FocusLynx instance. If you wish to leave the setup screen at any time without changing any settings, click the

Cancel

button at the bottom of the window. If you wish to reset this focuser's configuration to factory defaults, click the

Restore Defaults

button.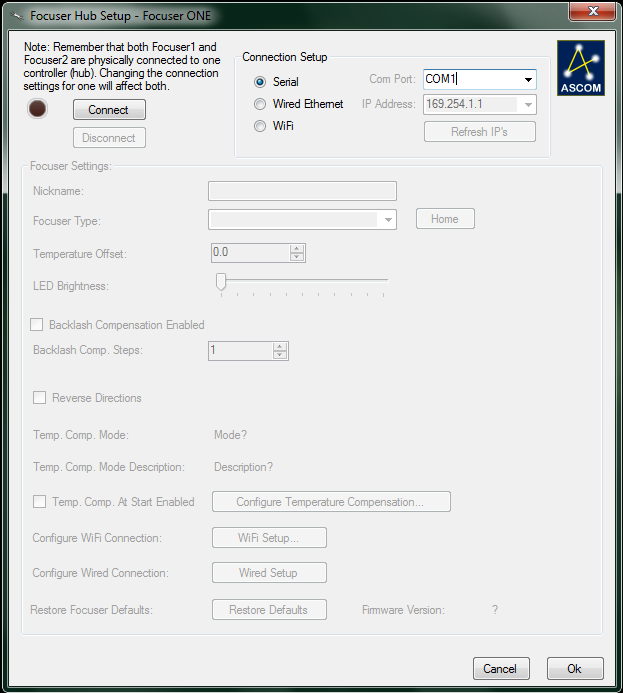 Connect To The Focuser Hub

- For serial communication, select the

Serial

option in the

Connection Setup

section and use the

Com Port

drop-down to select the appropriate communications port. This drop-down list will display only active serial ports so the virtual com port (VCP) assigned to the Serial-USB cable should be easy to identify. Next click the

Connect

button. If the LED indicator next to the

Connect

button does not light or if you receive an error, try selecting a different serial port in the

Com Port

drop-down list. If you encounter persistent problems determining which COM port to use, contact Optec Technical Support for assistance.